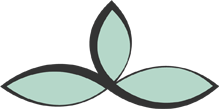 Please know that these are not rules to inconvenience anyone, but are guidelines to help us all respect each other and honor the purpose of the space. Here are some simple studio etiquette tips
Enjoy unity. Whatever your race, religion, political, social, economic, or personal status, our differences dissolve inside the studio. Let's all love, support, and encourage each other on our journey! If you are a current student, please help us welcome new faces.
Be on time. Please be on your mat with the necessary props before class start time. If circumstances cause you to be late, please enter the classroom through the back door. If you are more than 10 minutes late, please skip the class until next time. All classes will begin promptly at the designated start time.
Shoe-free zone. Please remove shoes in the lobby, and before entering any studio spaces. We offer cubbies in the front lobby as soon as you enter the front door.
Stow your stuff. Please do not bring purses and other belongings into the studio rooms. If you are concerned about the safety of your belongings, we offer lockers with locks in the hallway by the bathroom. We also offer hooks and cubbies in the front lobby.
Power down. All phones should be powered off (not just silenced) before entering the studio. This helps to avoid disturbances during your session. On-call medical personnel are an exception.
Use your studio voice. We all enjoy socializing with our friends at the studio; that is one of the great blessings of our community! But please be mindful of any classes or sessions going on; use your "studio voice" and speak in quiet tones, so as not to disturb your fellow students.
Observe expiration dates. If you choose to purchase a package, please remember that it is time-sensitive. Extensions are available only for medical emergencies (hospitalization/doctor's orders not to practice). The significant discount you receive is our way of honoring your commitment. Thank you for understanding.
Honor cancellation policies. We have cancellation policies for all sessions, classes, and workshops. Please be aware of these policies and honor your teacher by giving them as much advance notice as possible if you must cancel.
Where to park? Parallel parking on Broad Street is only available after 5pm. Parking is also available in the church lot next to our building. Please do not park in the church lot on Tuesdays and on every first Friday of the month due to their food pantry ministry. Parking is always available in the public lots across the street by Dogwood Park next to Borden's Jewelers and Outdoor Experience.
Tidy up. After your session, please clean your mat, props (if appropriate), and any equipment you may have used before putting it away. We provide the cloths and cleaning solution for you. This is so our clients can arrive at their session in a tidy, welcoming space, with mats and props that are ready to go – and it's your way of helping to honor the next student. Thank you!
Be present. Give yourself the gift of undivided attention. Once you enter the studio space, set your focus on the intention of your practice. Be open-minded and fully available – body, mind & spirit – for the duration of your practice.