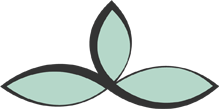 Welcome! We're honored to have you. Here are a few tips to help you get the most out of your session!
Before starting any new exercise, (even if you're currently exercising), please check with your Doctor.
Wear clothing that is comfy, breathable, and moves with you. Avoid loose or untucked t-shirts. After one workout, you'll see why – they fall over you and restrict breathing. Ugh!
Some classes are challenging – don't be discouraged! Be patient, rest when you need to, learn by observing,and, mostimportantly,listen to your body! Body awareness is the foundation of any mind/body practice. With regular practice, you'll see major improvements in strength, flexibility, balance, posture, and concentration. Notice and celebrate the changes as you grow!
Challenge yourself when you can, but never force a posture or exercise. If you feel pain for any reason, stop immediately.
If you've ever suffered injuries (particularly to the knees, back, or neck), please advise your teacher. You will be able to perform an effective sequence but may need to learn specific modifications to avoid putting stress on these sensitive areas.
Try to allow 3 hours after a meal and 1 hour after a snack before working out. Also, try to avoid drinking a lot of water or other beverage within 1/2 hour of class. Your stomach should be empty to allow for deeper breathing, more comfort, and greater flexibility.
Here's what to expect at Synergy!
Synergy yoga classes focus on:
Synergy Pilates sessions focus on these principles:
Here's what to expect at Synergy!
The ancient practice of mindfulness – of being "at the moment" – is the foundation of all the disciplines we teach. You are withdrawing from the stresses of the world around you, from regrets of the past or worries for the future. Just be. Here's a tip for mindfulness – concentrate on the sound of your breath. When you find yourself distracted, bring your focus back to the breath. Make subtle adjustments to achieve balance, deepen your posture, and listen to your body.
Your practice is as unique as you are. Do what feels most comfortable for you at the moment – not based on what you did yesterday or last week, and especially not based on what the person next to you is doing. Your practice is never a competition. Even with experience, your practice will vary from day-to-day in strength and flexibility. Honor this. There are modifications for every exercise or pose, so do what's best for you at that particular time. If you have any questions, please do not hesitate to talk with your instructor after class!
Namaste!
This one-on-one session with a Synergy trainer covers the programming from our Intro Class. You'll learn the fundamentals of your practice. Your trainer can help you assess which options are best for you and discuss the next steps. This session is $50 and is based upon trainer availability.
You may also book an Intro Duet for $60 ($30 per person) with a friend. Please call us to schedule.
Held once every few months, usually on Saturday, these are an economical, easy way to get started at our studio. You'll learn fundamentals during these 90-minute group sessions. We offer intro workshops for Yoga, Pilates matwork, and meditation, among others.
Your teacher is also available after the workshop to answer questions and help you with the next steps on your mind/body journey. Watch our schedule!
Offered a few times a year and meet once a week for six weeks to explore progress, develop your practice,and build a community with your classmates. Classes are limited in size.
*NOTE: The above options are designed to meet beginners at the beginning...but you can always dive in and learn on the fly. If you do, PLEASE come with a teachable beginner's mind, learn by observing, and above all, listen to your body.
All sales final. Checks & cash are not accepted at this time. Private Sessions and Duets by appointment only; please contact the studio to schedule. Please view our Cancellation, Expiration & Snow Policies